To honor my Lovely sweetie Mother who were killed during the genocide in Rwanda, as well as other Powerful women around the globe in spirit of empowering rural women during International Women 's Day March 8, 2012, I, Marie Claudine Mukamabano was so pleased to marching in playing African drummer, and dancing & singing at United Nations in New York City, in USA . Please enjoy our video clip. Please click here for theVIDEO CLIP. Enjoy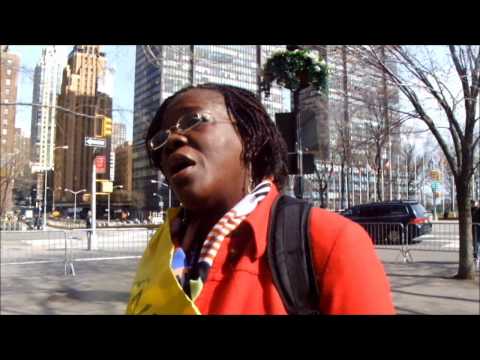 We need Peace. Empowering rural women by promoting Peace & development, Women of the World unite for global PEACE & EQUAL RIGHTS. WWW.WHYDOIEXIST.ORG (WHY DO I EXIST?/KUKI NDIHO RWANDA ORPHANS SUPPORT PROJECT )
————-
Marie Claudine Mukamabano
Rwandan genocide – orphan survivor
Ambassador for Peace
The Founder/Chief Executif Officer
Why Do I exist? / KUKI NDIHO RWANDA ORPHANS SUPPORT PROJECT
www.whydoiexist.org
Tel : 347 465 4045
——————–
Women's day 2012 to focus on empowerment of women and girls to sustain families
The permanent secretary in the ministry of gender and family promotion Julienne Munyaneza has said International women's day scheduled for 8th of March this year will focus on nationwide campaign on the civil marriage law. The programs that will last 4 weeks will also dwell on educating the Rwandan community on understanding Rwanda's gender policy. This year marks the 37th time the world is marking women's Day. In Rwanda the day will be marked under the theme "Empower women and girls to sustain families"
This will also mark the beginning of Rwanda Women and Girls' month which will stretch from 8th March to April 5th.
The permanent secretary in the ministry of gender and family promotion speaking during alive televised talk show on Sunday explained that each week during this month, activities will be carried out nationwide focusing on different areas.
Questions raised via short message service by viewers and listeners dwelt on the need to sensitize the public on the civil marriage law and in turn help Rwandans understand and change mindsets in relation to Rwanda's gender policy.
The talk show also saw the participation of the Rwanda women's parliamentary forum and the national women's organization Pro Femme Twese Hamwe.
——————–
The UN System: Working Together to Empower Rural Women
Rural women are active agents of economic and social change and environmental protection who are, in many ways and to various degrees, constrained in their roles as farmers, producers, investors, caregivers and consumers. They play crucial roles ensuring food and nutrition security, eradicating rural poverty and improving the well-being of their families yet continue to face serious challenges as a result of gender-based stereotypes and discrimination that deny them equitable access to opportunities, resources, assets and services.
The 10th session of the Inter-Agency Network on Women and Gender Equality (IANWGE) established a one year Inter-Agency Task Force on rural women to provide strategic direction and guidance to relevant UN processes and UN agencies working on promoting the achievement of the MDGs in rural areas, with a particular emphasis on rural women. Coordinated by FAO, IFAD and WFP, the Task Force is contributing to the preparations for the priority theme of the Commission on the Status of Women 2012. Its work will also feed into the Rio +20 UN Conference on Sustainable Development and the Sustainable Development Goals, as well as the MDG Summit in 2015, and will help define new post-2015 global targets and goals that take into consideration the situation of rural women. The process is expected to strengthen the ways in which the UN system addresses gender inequalities and discrimination amongst women in rural areas.
The Task Force also identified a number of strengths and complementarities of each member agency in addressing the different challenges facing rural women.
Technical Cooperation Programmes

The Division has developed a number of technical co-operation projects to strengthen national capacity for implementation of the Beijing Platform for Action and the outcome of the twenty-third special session of the General Assembly, as well as the Convention on the Elimination of All Forms of Discrimination against Women (the Convention).  Activities are implemented primarily at regional or sub-regional levels. Our recent initiatives include:
Strengthening national mechanisms for gender equality and the empowerment of women
Regional training workshops for government officials on implementation and reporting under the Convention
Regional judicial colloquia for judges and magistrates on the application of international human rights law, in particular the Convention, at the domestic level
Roles of judges and parliamentarians in implementation of the Convention on the Elimination of All Forms of Discrimination against Women
Support for countries emerging from conflict to enhance implementation of, and reporting under the Convention and implementation of the Beijing Platform for Action
Activities to support increased attention to gender perspectives in the area of human rights
Development of training materials to support national implementation of the Convention and to enhance the capacity of the Division and other institutions to provide more effective training
Capacity-building for promoting gender equality in the African countries: Strengthening the capacity of national machineries through the effective use of ICT
Capacity-building for promoting gender equality in the African countries: training on gender sensitive national planning and budgeting (2001-2003)
Activities for the implementation of the Beijing Declaration and Platform for Action: Enhancing Women's Participation in Peace-Building (2001-2003)
Activities for the implementation of the Beijing Declaration and Platform for Action: Integrating gender perspectives in Microfinance Activities (2001-2002)