Established in Rwandan SEPTEMBER 21,  2009  by Dr. Marie Claudine MUKAMABANO, United National International Day for PEACE September 21 is observed and celebrated in Rwanda, Africa and USA.
Back in 2009 when Miss Global Peace Marie Claudine MUKAMABANO was doing research  about different ways she can help her followers genocide orphans survivors cope with trauma and heal themselves, she find out that Forgiveness was the quickest way to overcome the trauma, sorrow and have a Peace of Mind,  however a Rwandan orphan since when her Wonderful Mother was killed while she was just a teenager girl  , she wanted to see if there is other ways she can help, by just google the world PEACE because for her she was thinking that we Forgive because we just want to have PEACE and experience PEACE OF MIND.
So, she google the world PEACE then she came cross to PEACE DAY , INTERNATIONAL DAY FOR PEACE  THAT WAS IN JUNE 2009. When she find out about the day, she was very happy and immediately contacted her Volunteers team in Rwanda, Kigali to see if she can celebrate this meaningful and powerful event in Rwanda, everybody accepted the invitation for her to celebrate International Day for Peace SEPTEMBER 21, THAT IS HOW , UN PEACE DAY WAS INTRODUCED TO RWANDA by a Genocide Orphan Survivor , A PEACEMAKER HERSELF who is today MISS GLOBAL PEACE, Promoting Women & Girls  Empowerment ,Teaching Creativity ,Innovation Skills, Entrepreneurship, Social Media Marketing and Effective Leadership Communication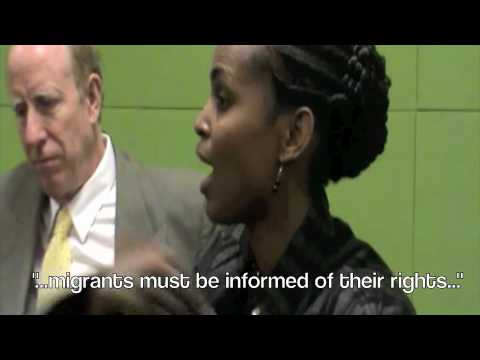 Marie Claudine Mukamabano is awarded "Ambassador for Peace" by the Universal Peace Federation on May 15, 2010 at the United Nations headquarters in New York City. " "For children like us who live in child headed households, when we have no parents, we live under very difficult conditions; life is very hard and there are times when we are actually even starving," says Justine. One of the greatest challenges facing Rwanda today is how to care for its massive population of orphans. According to the UNICEF office in Rwanda, there are more than a million orphans in the country. The high proportion of orphans has roots in the genocide of 1994. Since the genocide, increasing numbers of children are being orphaned as a result of HIV/AIDS. In Rwanda it is common to see older children raising younger ones by themselves. Tens of thousands of children in Rwanda are forced to eke out a living on the land without help from adults THIS YEAR  WE ARE CELEBRATING RIGHTS TO PEACE What is Right to Peace means to a Rwandan Orphan who don't have siblings and who knows how Hr of His parents were killed during the genocide in Rwanda ? PROMOTING PEACE IS  OUR BUSINESS !
EDUCATION for PEACE by Rwandan Genocide Orphans Survivor in Kigali, Rwanda
"EDUCATION FOR PEACE " was the THEME for UN's International Day for Peace
in Africa, Rwanda – CAPITAL Kigali at Muhima Primary School, we started our Peace Celebration with Eucharistic Mass performed by the Priest and Deacons from Sainte FAMILLE/Holly Family Parish in Kigali. I am so happy to share some of the beautiful pictures which was taken by Eric Muhire at the Celebration. Please enjoy! We were privileged to  have a World known Rwandan Super Star Jean Paul Samputu,and Grace  among the Artists who sang  for our children, as well as Peace Poetry reading, Music and Dancing for Peace, Testimonies from Rwandan orphans, Students performing and our Keynotes Speaker François Xavier Nsabimana. God Bless All my supporters, Volunteers,Donors,and Financial contributors. Than you! HAVE A WONDERFUL DAY
PROMOTING PEACE IS  OUR BUSINESS !