Marie Claudine received an Ambassador for Peace Award May 2010
Please enjoy this video clip about it. Peace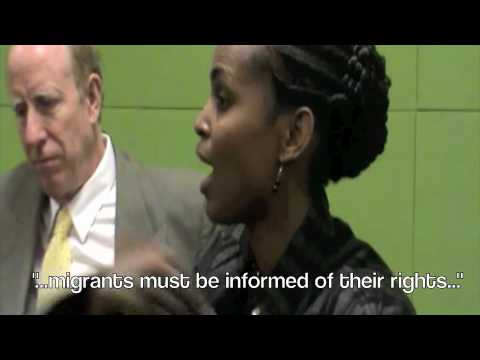 Marie Claudine Mukamabano, a survivor of the 1994 Rwandan genocide, asked students to help orphans of the genocide through monetary donations and the promotion of peace on Tuesday at Neville Hall.
Mukamabano started the Kuki Ndiho Foundation to help affected children cope with the genocide through music and art.
She works to bridge the gap between children of the Tutsis and the Hutus, tribes involved in the 1994 genocide, in which her whole family was murdered.
"I missed being able to call someone mother, so I created this program," Mukamabano said.
UNICEF estimated more than 1 million orphans need help in Rwanda as a result of the genocide.
Mukamabano encouraged students to help in any way possible. Students have the opportunity to work as interns or become sponsors to children for $20, $50 or $100. With this money, children will be provided with food, education, clothes and equipment for recreation.
"When you believe someone cares about you, you get hope," she said. "With hope, you move forward."
Mukamabano said the other important aspect of moving forward is forgiveness.
"I believe in forgiveness and peace," she said. "I could use my energy for revenge, or I can use my energy to move forward in my life."
Growing up in Rwanda, Mukamabano's teacher taught her that members of the Tutsi tribe were evil and members of the Hutu tribe were good.
Confused as to how tribe affiliation could denote personal characteristics, Mukamabano asked her mother to which tribe she belonged.
"My mom said, 'Who do you think you are?' I said, 'I am Hutu,' " Mukamabano explained.
From that day, Mukamabano, a Tutsi, believed she was a Hutu, a good person.
After years of government-bred hate of the Tutsi tribe, tensions escalated to the climax: Hutus began killing Tutsis.
"They killed them because they hated them," Mukamabano said.
It is estimated that one-seventh of the population was murdered.
"I have a wound in my heart," Mukamabano said. "You can't see it if you see my outside. I have emotional hurt."
After "too much" crying, Mukamabano went to work to make her mother proud.
Mukamabano was honored with the United Nations Ambassador for Peace Award. As an ambassador, Mukamabano has taken an oath to tell girls in Africa to finish high school before getting married.
Mukamabano's talk, "Why Do I Exist? Never Again in Action," was sponsored by the Lehigh University and United Nations partnership and Psi Upsilon Fraternity.
According to Lehigh's website, the Lehigh and U.N. partnership enables the university to bring U.N. ambassadors and delegates to campus.
It also gives students the opportunity to attend U.N. conferences and educational seminars, and to serve as interns at any non-governmental organization office.
"I feel Lehigh's partnership with the U.N. is unique, and these opportunities to bring speakers to Lehigh are invaluable," Ann Girdano, '12, said.
Bob Malys, '11, recently returned from a study abroad program in Rwanda, which was based on experiential learning, and allowing him to talk to many residents of Rwanda and some survivors of the genocide.
"I saw forgiveness on a whole new level," he said.
Mukamabano stressed that while relations between the Hutu and Tutsi tribes are not perfect, they are trying to improve.
"I recognized how little everyone on this side of the world thought we were part of [the genocide]," Malys said. "America always thinks it's needed, but I saw people solving their problems by themselves."
Girdano said she thought it was touching to hear a personal story about the genocide because many people only know about what is portrayed in "Hotel Rwanda."
Malys said he hoped students learned what happened during the genocide and felt some of the emotions Mukamabano and other Rwandans felt attempting to stay alive.
Mukamabano said she does not believe she survived because she was special or because she hid better than other Rwandans.
She believes she was saved by God to evoke change in the world.
After showing a video of Hutu and Tutsi children in a large circle singing and dancing, she said, "The children dance and sing together because we are all human."
To contact, help or learn more about the Kuki Ndiho Foundation, visit www.whydoiexist.org.
If you enjoyed this post, make sure you subscribe to my RSS feed!